About Mr. Bud Johnson Jr.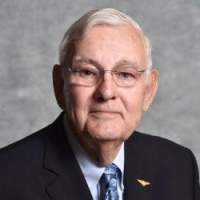 John "Bud" Johnson, a native of St. Petersburg, Florida, graduated from Wesleyan University in 1954. He then served from 1954 -1958 in the U.S. Navy as a pilot of large amphibian planes (P5M-2 Marlin and UF-1 Albatross), and as a Patrol Plane Commander stationed at the Naval Air Stations at Sangley Point, Manila, Philippines and Kwajalein, Marshall Islands. His tours included evacuation of the Quemoy Islands; reconaissance of the Formosa Straits and the South China Sea; and later, support of Atomic Energy Commission test operations at Eniwetok, Bikini, and the Wake Islands. His memoir "Grandpa, Is That Really You?" documents his exciting (unclassified) Navy experiences.
Bud's business career began in New York City with Benton & Bowles (B&B), a major advertising agency, where he rose through management ranks to become a Board member and Senior Vice President. In 1972 Bud began his second career in management recruiting with Webb, Johnson LLC, and later his own firm Johnson, Norinsky LLC. In 1997 he sold his firm, but has stayed active serving on various boards, participating in parish and community activities, fundraising, and playing golf at Winged Foot Golf Club.
Bud celebrated 60 years of marriage to Lynn Wescott in 2020. They enjoy extended family life and a seasonal home in Palm City, Florida.