An in-depth look at China's footprint in the Bahamas.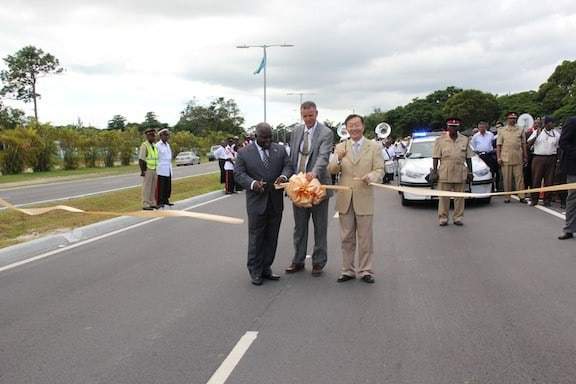 Edited May 14, 2020
By Joy Votrobek, Sr. Research Analyst, American Security Council Foundation
Abstract:
This paper will look at the timeline of Chinese infrastructure projects in comparison with Bahamian political parties and their policies. The article will explore China's economic and political coercion through a "gifted" sports stadium followed by loans for questionable infrastructure programs. It will question the need for the North Abaco port as well as the Nassau Gateway Airport project. The paper will conclude with a short analysis of China's three-fold agenda for the Bahamas.
Timeline of crucial Chinese infrastructure projects in the Bahamas:
1953 – Progressive Liberal Party (PLP) was formed, the first political Party of Bahamian's from African descent. The PLP was formed in opposition to the ruling British.
1955 – Hawksbill Creek Agreement (HCA) was signed between the Bahamian government and the Grand Bahama Port Authority (consisting of wealthy American and British investors).
1958 – United Bahamian Party (UBP), politicians of British descent, was formed to counter the PLP.
1972 – The Freedom National Movement party was formed to oppose the PLP. Some of the FNM members were those from the UBP party and anti-PLP members.
1973 – The Commonwealth of the Bahamas won their Independence from Great Britain.
1992 – In August of 1992, the Free National Movement (FNM) party came into power.
1994 - Edward St. George convinced Hutchinson Port Holdings to invest in Freeport Harbour
1997 – FMN party had just won larger majority control of the government under Ingraham
NOTE: Before 1997 the Bahamas had diplomatic relations with Taiwan, but then switched to Beijing.
1997 – Hong Kong-based Hutchinson Port Holdings opened the Freeport Container Port after pouring in $2.6 billion.
2002 – Progressive Liberal Party (PLP) – PM Perry Christie takes office.
2007 – FMN party regained control of the government under Ingraham once again.
2009 – China's Shandong Hi Company started construction of the Thomas Robinson Stadium.
2010 – China Construction America began to develop the Nassau Airport Gateway ($67 million). Funded by China's Export-Import Bank
2011 – The $30 million Thomas Robinson Stadium was completed and given as a "gift" to the Bahamas.
2011 – China's EXIM bank provided a $2.45 billion loan for Baha Mar resort, the largest in the Caribbean.
June 2011 – Democratic National Alliance (DNA) party requests the Free National Movement (FNM) Party produce public records of Communist China's contributions to the Party.
November 2011 – Bahamas Press Reports Chinese Commercial fisherman fishing off Andros Island.
2012 – Progressive Liberal Party in the Bahamas gained the power of the government.
2014 – The China Harbour Engineering Company (CHEC) began construction on a Port in North Abaco. $39 million. C